Dr. Pussums Fancy Feline Elixir

Curiously Strong
That's because, unlike commercial catnip toys that are fluffed up with the useless parts of a catnip plant, Dr. Pussums toys contain only the most potent parts of the plant;

leaves and buds

. These toys, thus, last much much longer than most other catnip toys in existence.

Environmentally Conscious All the Way
The organic catnip are sewn into each screen-printed pouch with fabric decorated with artwork using only environmentally-safe, water-based dye.

Pure Organic Catnip grown in Maine
Dr. Pussums' catnip are all either organically grown in fields in Maine or purchased from other organic growers. Once your cat deems his Dr. Pussums flat (usually in about 1 year or so), it is recommended that you open the bag up and plant the contents. Seeds that may be in the toy could germinate, yielding aromatic catnip plants in your very own garden! Your cat will thank you for that !



---
Dr. Pussums (Large)
1 cup of catnip
Dr. Pussums (Junior)
1/2 cup of catnip
Dr. Pussums Toss About
Assorted fabric
with polar fleece tail)
---

About Catnip
Catnip is a perennial herb belonging to the mint family and grows wild in most parts of the United States, although it also is cultivated for commercial use. Catnip is native to Europe and was introduced to this country in the late 18th century. The plants have grown to about about three feet tall by the time they are ready to be harvested.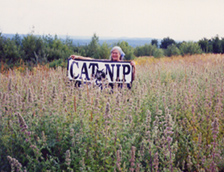 Primarily known for the stimulating effect it has on cats, some people use the leaves in tea, as a meat tenderizer and even as a folk treatment for fevers, colds, cramps, migraines and as a mild sedative. It has also been reported that nepetalactone, the essential oil in catnip that gives the plant its characteristic odor, is about ten times more effective at repelling mosquitoes than DEET, the compound used in most commercial insect repellents.

Cats love to roll, jump, chew, sniff, lick, and crash around with Dr. Pussums pure fresh catnip. It will stay

fresh for about three years

, but after a year they have usually licked the toys flat and it is then recommended to

plant the toy in the garden allowing any left-over seeds to germinate

.