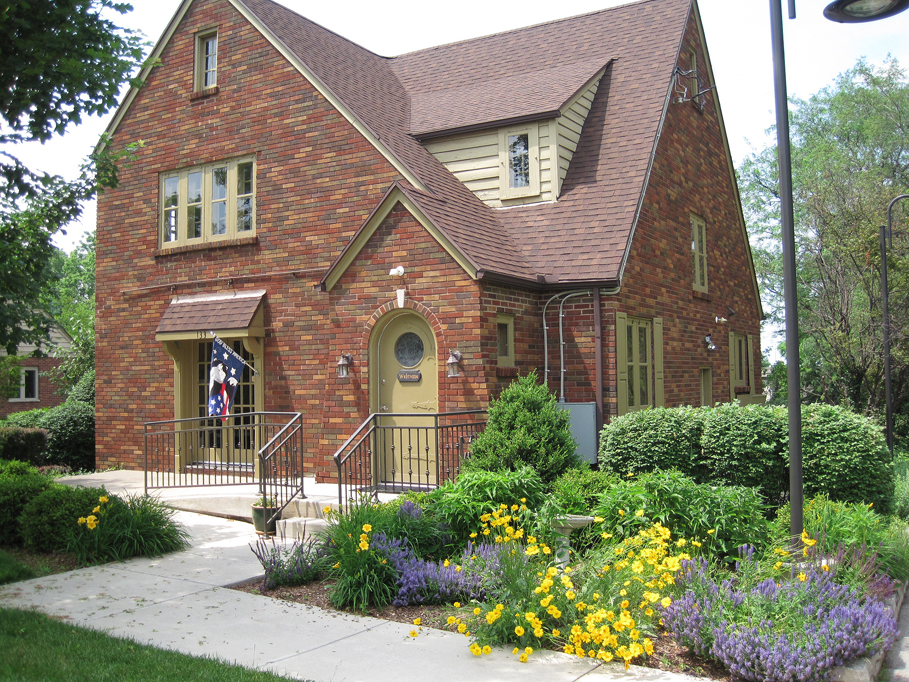 The Scratching Post Cat Hospital & Retreat is located in a charming 1939 house in the heart of historic downtown Centerville, OH, on the south side of Dayton. We have over 4000 sq ft of comfortable, elegant, relaxing and efficient space to care for your furry feline friend.

Our cat hospital is at 133 West Franklin St, Centerville, right across from K&G Bike Center and Virginia Ave, and next to Las Piramides Mexican restaurant. Our spacious facility has 3 sunlit exam rooms, a fireplace and a waiting area that's warm and homey, providing for a cosy, relaxed environment for any cat (or their human companion) that saunters in.
Our entrance is equipped with a ramp making it wheelchair and scooter-friendly. Parking is located on the side and back of the hospital. If you need help carrying your cats or purchases, or any assistance at all, please let us know. We love to help in any way possible.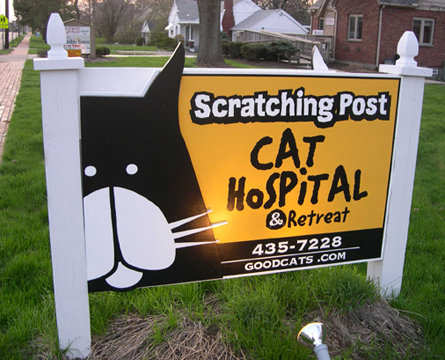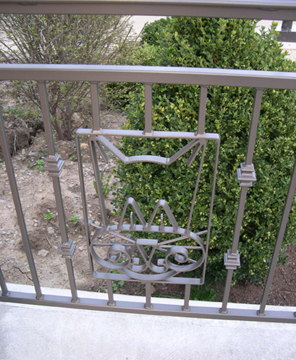 From the sign that was cut and hand-painted by Dr. Summers' wife, the custom cat image in iron that was crafted by a skilled local artisan, to the abundance of native flowers adorning the windows and sidewalks, our facility is all about warmth, local and natural.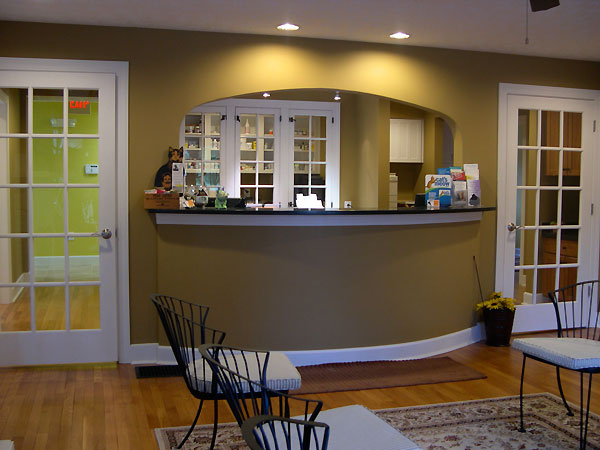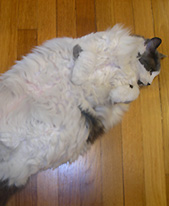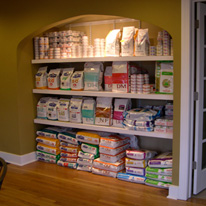 Our reception area is designed with warmth, comfort and calm in mind. With soothing music and warm colors, you would often encounter house cats slumbering upside down in the middle of the floor. Do watch your step.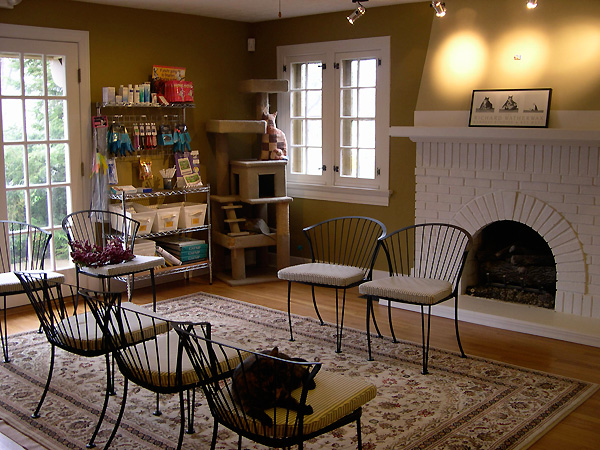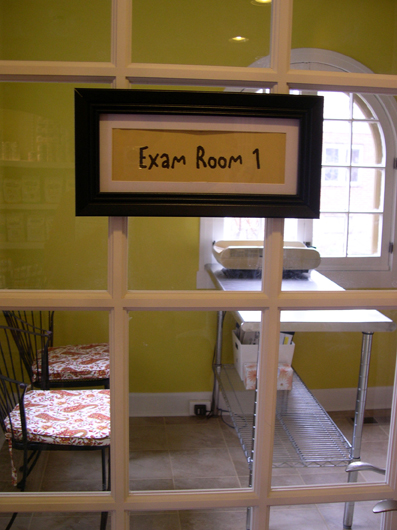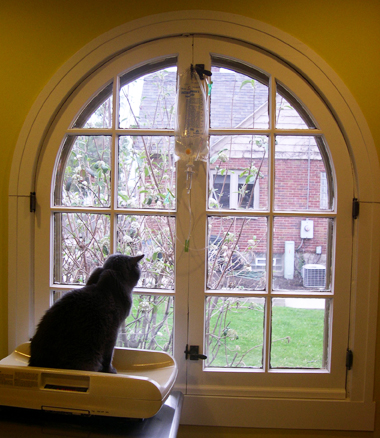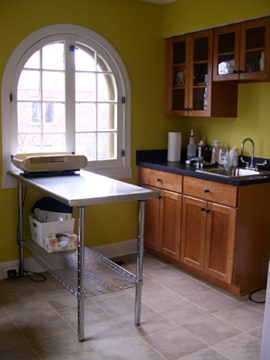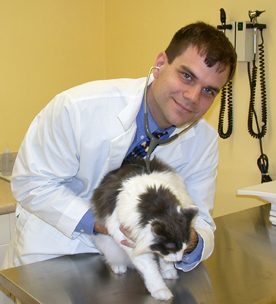 With sun streaming through the arched windows of the exam rooms and critters dallying just outside in the bushes, visitors are often captivated by all the pleasant goings-on that a visit to us would often seem like a pleasant interlude in their hectic kitty lives.

We believe that the calming and pleasantly-distracting atmosphere allow us to perform a more thorough and accurate exam of your cat than is possible in other more stressful animal hospitals.

The treatment area is equipped with a dental suite, dental x-ray, treatment tables, and a full range of equipment to perform a myriad of tests and procedures. Post-op patients receive close monitoring and intensive care here.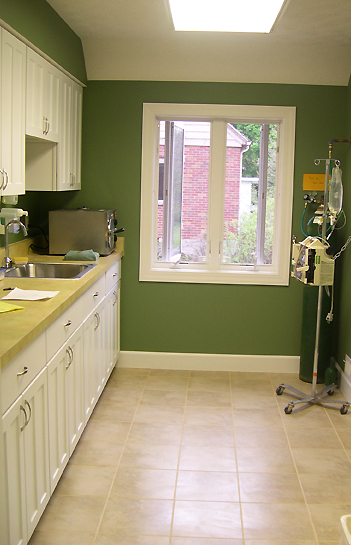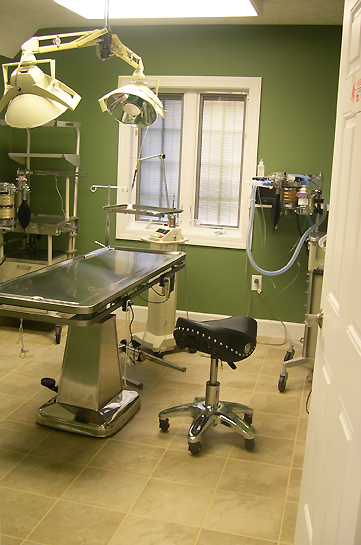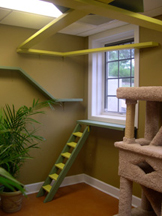 Visit our Retreat Page for more information and pictures.
Our dedicated boarding level is the best cat-approved retreat in town ! The ExeCATive Lounge (playroom) has plenty of sunlight, amazingly fun overhead catwalks, cat tree, bird feeders and many sisal-wrapped gadgets on which to sharpen one's claws as well as cushy beds and chairs in which to lounge (or sharpen one's claws).

All the cats' lodgings have a completely transparent side providing a great window view of our backyard and birdfeeders -- no cold dark cramped cages.

There are 2 spacious windowed Purrsidential suites, each able to accommodate 3 pampered cats at a time and filled with cushy snuggle-worthy bedding and chair, toys and many fun perches that would keep the most discriminating cat smiling. A webcam is also hooked up in these rooms, providing you the option of seeing your furry friends online from anywhere in the world.

Of course, soothing classical music wafts throughout our boarding level, relaxing our guests into dreaming about catnip and your newspaper.

Come by anytime for a personal tour. Mind where you step though. It's so relaxing that our floor is littered with napping cats.